Elevating Women in Tech: Practical Strategies
Addressing the under-representation of women as technical practitioners, Interop ITX speaker Patricia Dugan outlines some of the issues that the IT and tech sectors need to address.
The numbers tell the story: Women make up roughly half of U.S. workers and of the U.S. population, yet on average women represent less than a third of tech companies' employees. An even smaller percentage of women hold leadership roles at tech firms.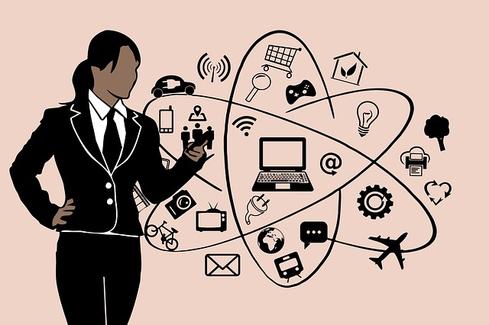 It's commonly accepted that succeeding as a woman in technology is far more difficult than it should be, and that despite a high level of awareness the problem of underrepresentation of women as technical practitioners continues to persist.
Patricia Dugan, a communications and behaviorally oriented community architect who helped build two digital publishing companies from the ground up, believes that both tech companies and women themselves need to do more to ensure the long-term success of women in the tech industry.
Dugan, who will lead the panel discussion, Elevating Women in Tech: Practical Strategies at Interop ITX on May 17, says there are multiple reasons why women are under-represented in both the overall tech workforce and leadership roles. "[It's] because of the basic anthropological evolution of human beings, and due to deliberate organization of ecosystems which either didn't allow women to participate -- such as academic institutions -- or have intentionally created 'difficult to advance environments'," she says.
Power and money
The problem isn't simply the lower percentage of women in the tech workplace, Dugan says. "Where the disparity lies is in the equality of the quantity of women in leadership roles … and in the equality of compensation across all individuals in parallel roles," she explains. Many women leave their tech jobs early, frustrated by a lack of advancement opportunities.
The lack of women ascending into top management positions hasn't gone unnoticed within the tech industry. "Tech is making a significant amount of noise around welcoming women to the industry," Dugan notes. "What we need is to create tested organizational frameworks and standards to reduce the attrition rate."
Not only are women underrepresented in the tech workforce and leadership posts, they generally make less money than men holding similar positions. Dugan notes that "numerous studies" show there is a wage gap. "Disparity in compensation is very real, which can be reduced by requiring transparency and a true desire for positive change on a company-by-company basis," Dugan says. "The only fair answer is to judge each company as a standalone; Publish everyone's pay and let's take a look," she says.
Addressing the problem
Dugan believes that women themselves can help elevate women into leadership roles. "Women in upper management need to assertively seek out opportunities to selflessly grow women in middle management," she says. "Because there are few women in tech, those in senior leadership have the responsibility to put this extra effort there or the industry will remain unbalanced."
It's important to consider how current actions will play out over the long term, Dugan says. "How what we do will affect companies, the industry, our culture in five to ten years," she says. "This requires some selflessness to do, but at the end of the day we're elevating the ability to increase wealth and create healthy businesses on a global scale."
[Patricia Dugan, founder of It's the Community, will lead the Leadership and Professional Development track discussion Elevating Women in Tech: Practical Strategies at 4:30 pm on May 17 at the Interop ITX conference at the MGM Grand in Las Vegas. Other participants include Genetha Gray, Analytics Research Scientist, Intel; Greg Nielsen, CEO, IPtimi; Rachael Stedman, Engineering Manager, Lever; and Susan Wu, Marketing Director, Midokura.]
John Edwards is a veteran business technology journalist. His work has appeared in The New York Times, The Washington Post, and numerous business and technology publications, including Computerworld, CFO Magazine, IBM Data Management Magazine, RFID Journal, and Electronic ... View Full Bio
We welcome your comments on this topic on our social media channels, or
[contact us directly]
with questions about the site.